This is coming from someone who has written 1,091 letters over the past 11.25 years, so I mean it very strongly when I say that if you are looking for a fine-tip gel pen to write with, look no further than the
Uni-ball Signo 307
series.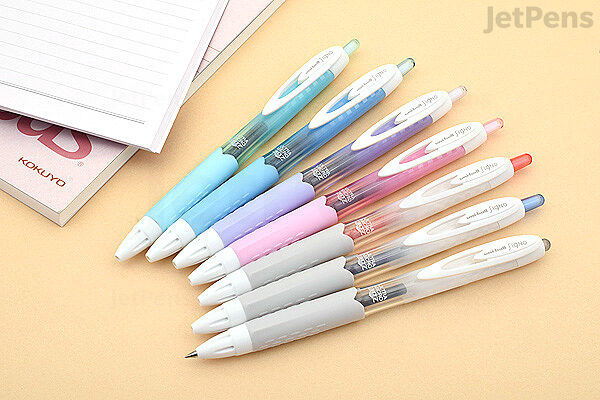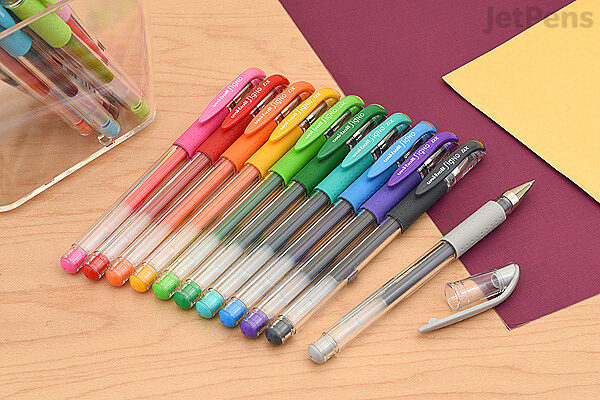 In fact, I purchased some Hello Kitty branded UM-151 pens from Japan years ago and have been using both 0.38 and 0.28 black ink refills in them for =years=.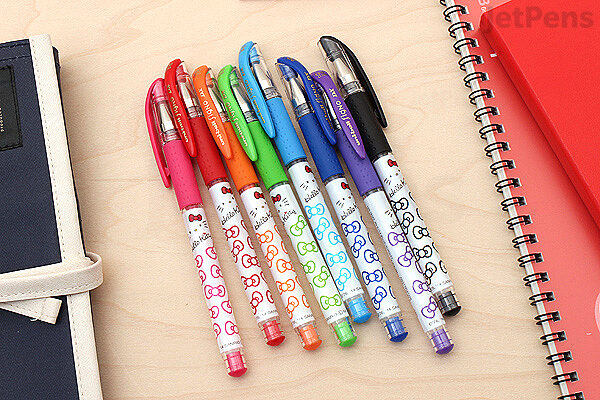 The UM-151 is a good pen. A great pen, even. It's a classic, and held up to any comparisons I made with other brands, whether it be the Pilot Hi-tec-cs, Pentel Sliccis, Zebra Sarasa, you name it. I couldn't make the argument that the Uni-ball Signo was strictly superior, but I definitely preferred it and kept both an 0.38mm and 0.28mm on me at all times. (Disclaimer: I have not tried everything...notably, I haven't tried a Pentel Energel yet...and I bet there are newer pens that have popped up in the meantime...)
...until I met the 307, labeled as "ultra micro". You'll notice right away that the pen body itself is different and the pen itself is retractable rather than having a pen cap. Trivial differences, to be sure, but I really do love the new pastel designs and "lighter" aesthetic.
What really makes the difference, though, is the UMR-83E ink. The only real problem with the UM-151 pens was that the ink could sometimes (albeit rarely) dry out or be a bit inconsistent. Well, say goodbye to those worries, because the UMR-83E refills and their fancy "cellulose nanofiber ink" really do away with that problem entirely, leading to perfectly smooth writing, forever.
0.38mm really is the perfect ink width for me, but these refills are available in 0.5mm and 0.7mm as well for those of you who prefer thicker lines.
To top it off, these refills use the same form factor as the 207, meaning if you want a more squishy rubber grip, you can use them in the
Uni-ball 207 Premier
, which looks like this: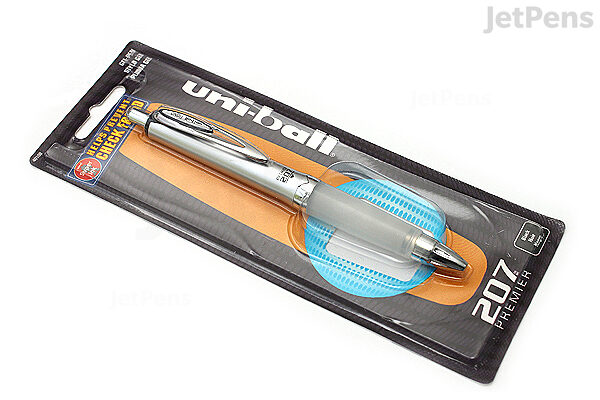 Which of course doesn't look as cute, but if the grip is more comfortable for you, go for it.
The only disappointment really is that the "E" series of refill isn't available in 0.28mm sizing, so I'll have to stick with either the regular UMR-82 ink (don't have any on me actually...should order some), or go back to the classic UMR-1-28 refills and use them with the old signo DX series. I dream of a day when I can get the 307 ink with a 0.28mm width...that would be amazing.
Anyhow, the ink and writing of the new 307s is fantastic and I haven't touched a regular UM-151 in quite some time because these are just =so nice= to write with.